Finca San Jerónimo Miramar
ORIGIN Guatemala
REGION Atitlan
FARMERS Giorgio and Gina
RELATIONSHIP Friends 
VARIETAL Catuai
ALTITUDE 1000-1700 masl
PROCESS Washed, Honey
The farm
Finca San Jerónimo Miramar is a stunning and ecologically diverse farm situated in the Atitlán region of Guatemala. The owner-operators of the farm are committed to regenerative practices, treating the environment, employees, and their community with a deep level of care. A large portion of the farm is a private nature reserve, and they also host a lab to research natural methods for reducing fungi and pests in coffee. In addition to coffee, the farm harvests an array of produce including cocoa, pepitas, passion flower, and honey. They also operate a dairy, producing a variety of cheeses and creams on-site. The bee colonies and grass-fed cows they nurture on the farm are a key part of the overall biodynamic system.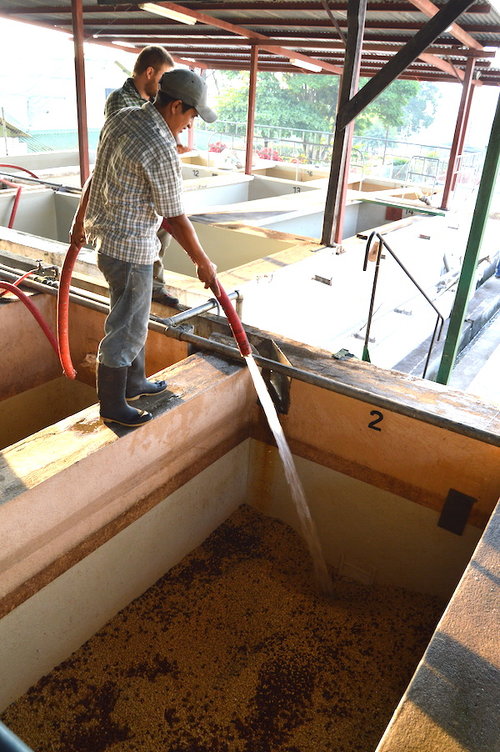 The farmers
The fourth-generation owner-operators of Finca San Jerónimo Miramar, are early risers. They have been ever since childhood, when their father would wake them before the sun to start their days. This farm and its owners stand out for their high attention to detail, experimentation and innovation, and true commitment to nuturing the land and improving their community and the lives of their workers.
The owners are absolutely tireless workers, with their early-rising habits being just one indication. When asked why they work so hard, when it seems like the farm operation had been dialed in to run smoothly, perhaps without such great effort on their part, they responded, "We are slaves to the people." They work hard knowing that hundreds of people rely on the success of their farm for their livelihoods.
For many years, coffee production was not a profitable part of the business. The family used their dairy operation to subsidize the coffee side, knowing that their community needed those valuable jobs provided by the more labor-intensive coffee production. As you walk around the farm, a little village unto itself, you can tell that the workers are generally content and cared for. Children play on a well-tended playground on the farm, situated adjacent to the coffee processing mills and nearby some of the housing that is provided to workers for a nominal rental rate.