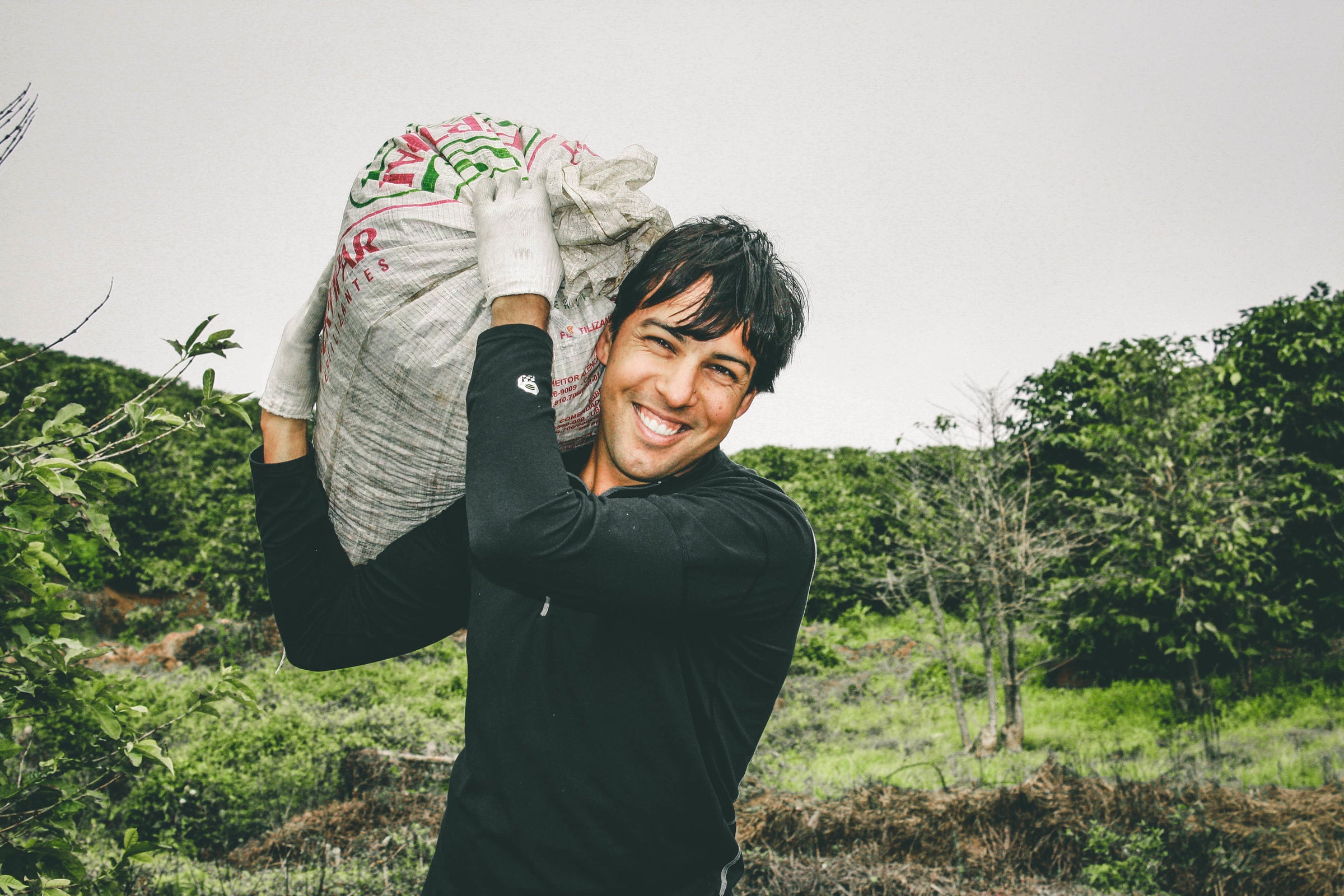 About Nossa Familia Coffee
Nossa Familia Coffee is a Portland, Oregon-based roaster that was founded in 2004 by Brazilian native Augusto Carneiro. Augusto has always felt a deep sense of pride for the work his family has done growing coffee in the highlands Brazil since the 1890s, and he formed Nossa Familia to bring his family's coffee to Portland. Early on, all of Nossa Familia's coffee was imported directly from his family's farms, and today these Brazilianfazendas remain at the core of our direct coffee trade model. Over time we have developed deeply-rooted relationships with coffee growers around the world, bringing you excellent specialty coffees from Guatemala, Nicaragua, Peru, Ethiopia, and beyond. 
Our Purpose & Mission
Nossa Familia's purpose is to deliver exceptional farm-direct coffee and create positive relationships locally and globally.
We focus on bringing you exceptional coffee stemming from exceptional relationships. At every step, we continuously strive to foster community, ensure social responsibility & minimize our environmental impact. This tradition starts with our family - 'Nossa Familia' in Portuguese - which has been growing coffee in the highlands of Brazil since the 1890s. We work hard to treat everyone in our supply chain as part of our extended and ever-growing family. We've learned from our family to practice true sustainability - the ability to sustain our plants, soil, air, water, community, and ourselves.
We source some of the world's best coffee in an ethical manner from smallholder and family farmers, working only through responsible importers. We strive to be direct and transparent throughout every step of our supply chain. We foster relationships through good business practices with our customers, vendors, suppliers, and farmers. Our vision is to create a coffee company that makes the world a better place—we truly believe that our actions can have a positive impact. We aim to grow our company responsibly, maximizing our contribution to the communities we're a part of while striving to minimize any negative impact on the Earth. We are proud to be Oregon's first Certified B Corp coffee roaster, signifying our commitment to the Triple Bottom Line: People, Planet, and Profit.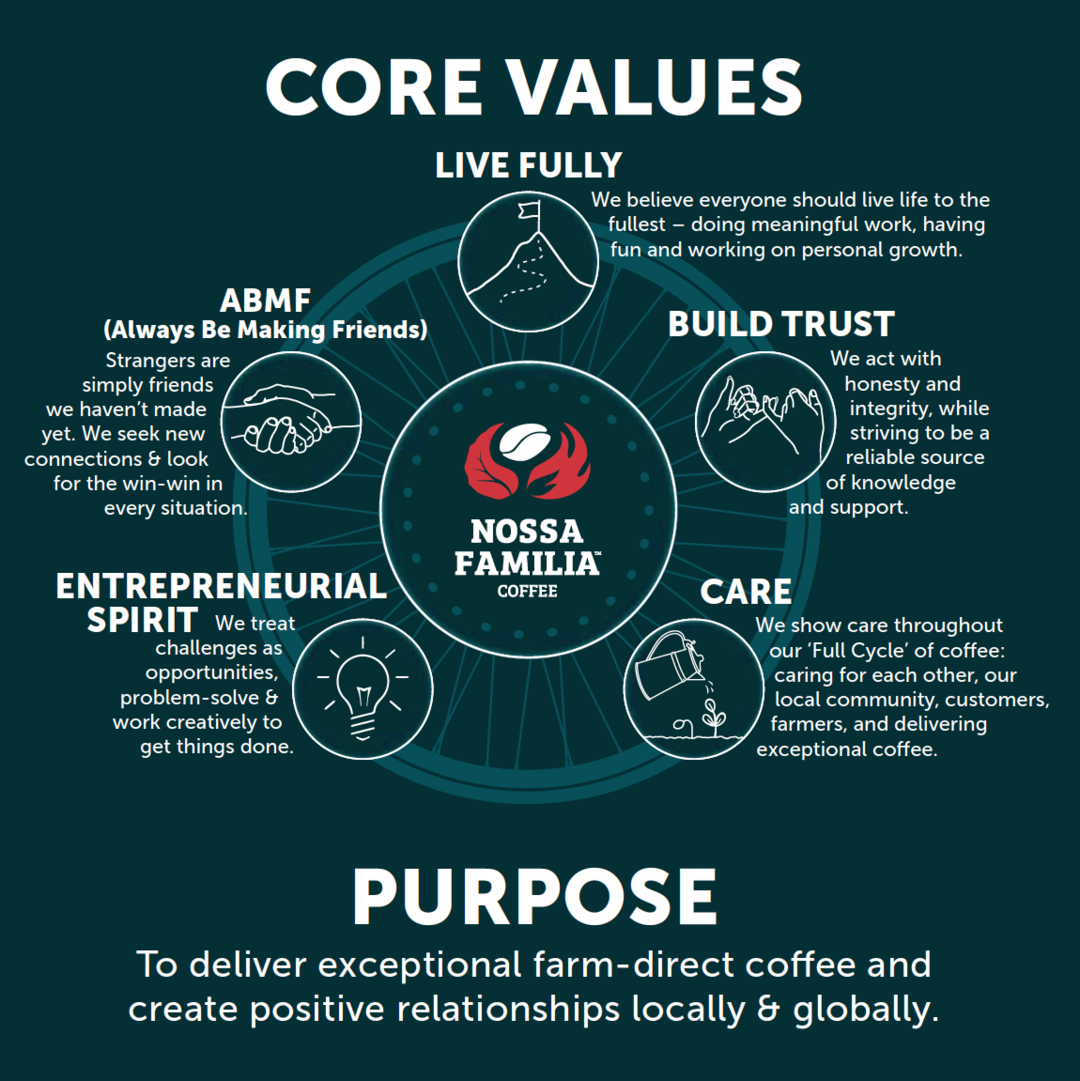 Our story: The early Days
Avid cyclist, Brazilian exchange student, college tennis player, recovering mechanical engineer, hater of legumes – these are just a few ways you could describe Augusto Carneiro, founder and fearless leader of Nossa Familia Coffee.
College brought Augusto from Rio de Janeiro to Portland, where he played tennis, rode bikes, and studied engineering. After college, Augusto worked for a few years as a mechanical engineer, but soon became frustrated with a job he felt was mundane and unfulfilling (it is widely believed that he is much too talkative and distractible to be an engineer; he's been known to sport a T-shirt reading "Squirrel Whisperer"). His thoughts kept drifting back to his childhood and the time he spent working on his family's coffee farms in Brazil. Filled with a deep sense of pride for the beautiful work his family had been doing for over one hundred years, Augusto decided to quit his job and bring his family's coffee to Portland.
Nossa Familia's start was slow and unconventional. There was no cafe and no roasting facility. Instead, Augusto focused on relationships. In 2004 Augusto's family shipped him a container of coffee on consignment and he found ways to sell it. Nossa Familia Coffee was officially in business.
Evolving
Nossa Familia Coffee has come a long way since those humble beginnings in 2004. We opened our Pearl District roasting facility in 2012 and in 2013, with the help of a successful Kickstarter campaign, we opened our Espresso Bar in the same building. In 2017, we expanded our retail operations with new locations in Downtown Los Angeles and a new café in the Central Eastside Industrial District of Portland. We moved our roastery to its current facility in Northwest Industrial Portland at the end of 2017, acquiring a second, larger Loring roaster. We also moved our Pearl District espresso bar in the process. The following year, we opened our flagship zero waste café at Seven Corners on SE Division Street in Portland. Today, we have three café locations in addition to the roastery, and a burgeoning wholesale coffee operation which serves local grocery stores, cafés and restaurants.
We have also expanded our coffee line beyond our family's Brazilian coffee to bring you beans from other farms in different growing regions around the world. Some things, however, haven't changed: we are still focused on building relationships, Augusto still rides his bike to work, and he still doesn't eat legumes.
Nossa Familia will continue to evolve, but our values on social and environmental responsibility, quality coffee, and relationships are deeply rooted in our heritage and will always serve as the guiding force for our growth.